Publications
I write poetry, short stories and books including 'coffee table' art books. This page reviews some of my publications.
I Am Stevie Mouse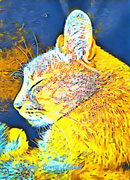 Published in September 2017, my most recent book 'I Am Stevie Mouse' tells the story of how I found a four week old sick kitten drowning in a puddle. I rescued the kitten and after a lot of ups and downs she has become an important part of our family. The book is available in softback from Amazon and in hard cover with dust jacket from Blurb.
This short video provides an introduction to the book.
My Paciano – Il Mio Paciano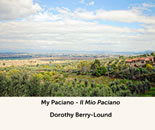 In 2016 I held a three month art exhibition in my adopted hometown of Paciano in Umbria, Italy. I created a book for the exhibition 'My Paciano-Il Mio Paciano' which is available in softback from Amazon and in hard cover with dust jacket from Blurb.
This video gives an overview of the exhibition and the images you will find in the book.
The Journey

My book 'The Journey' was one of the earliest books where I combined my writing and my art work, in this case storytelling in poetry.
Price: £5.99
It is available in paperback from CityScape Books.
Also available as an ebook from The Fellowship of Authors and Artists or Amazon Kindle.
Bearing All in Umbria – The Diary of Toby Bear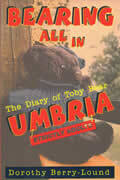 Toby Bear goes to Italy with Mummy and Daddy. He sends letters to Nanny telling her all about his holiday.
It sounds like a children's story, but it's definitely not – it's strictly for adults!
Toby Bear is a streetwise bear with a rich imagination. In his e-mails to Nanny he regales her with the very grown-up activities of Mummy and Daddy. They are innocently sampling the delights of Italy – with a glass or two of wine to add to their enjoyment – but to Toby Bear they are leading a life of debauchery.
Toby's exaggerated version of their exploits, mingled with revelations of his own secret life and nocturnal adventures, adds a touch of spice to this quirky and very funny account of a sojourn in Italy.
A few copies of this book are still available – please contact me if you would like to buy one.
Features in other books
My art and photography have been featured, along with a number of other artists, in a book entitled 'Digital Exposure' edited by Mario Carta, which is available at Amazon.com.
Current projects
Poetry with illustrations
A long term project is a book of poetry with illustrations which is something I return to from time to time as the inspiration strikes!
Developing Inner Peace
In May 2017 my husband, Graham Irwin, and I launched our course about discovering spirituality. Called 'Developing Inner Peace', the course is based on his book 'Enlightenment for Beginners'. If you want to discover more about your spiritual side and/or want to feel more peaceful then this simple course might suit you. The introduction and Module 1 are free so you can try the course before you sign up.
Follow Me
You can follow me on Facebook, Twitter, Google+ and Instagram and I have an art blog that I post to every Monday and Friday.
If you would like to commission a piece for a particular room or setting please contact me.