Publications
I write poetry, short stories and books including 'coffee table' art books. This page reviews some of my publications.
I Am Stevie Mouse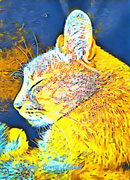 Published in September 2017, my most recent book 'I Am Stevie Mouse' tells the story of how I found a four week old sick kitten drowning in a puddle. I rescued the kitten and after a lot of ups and downs she has become an important part of our family. The book is available in softback from Amazon and in hard cover with dust jacket from Blurb.
This short video provides an introduction to the book.
A review (October 2017): Stevie Mouse is one lucky cat whose near misfortune turned into a blessing not only for this beautiful kitten but for its human parents and fur siblings. A wonderful book documenting Stevie Mouse's life through photographs and words, you will learn about animals' keen awareness of their environment and their reactions to sadness and enormous joy.
The author, Dorothy Berry-Lound is a gifted artist and writer who draws you into the story. This book is a heartwarming written and visual narrative of how animals personalities and intelligence touch all those around them. I highly recommend this book. J Drew
My Paciano – Il Mio Paciano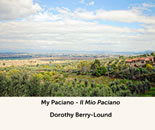 In 2016 I held a three month art exhibition in my adopted hometown of Paciano in Umbria, Italy. I created a book for the exhibition 'My Paciano-Il Mio Paciano' which is available in softback from Amazon and in hard cover with dust jacket from Blurb.
The Journey

My book 'The Journey' was one of the earliest books where I combined my writing and my art work, in this case storytelling in poetry.
Price: £5.99
It is available in paperback from CityScape Books.
Also available as an ebook from Amazon Kindle.
A review (April 2019) - ShannathShima shares her journey toward enlightenment through heartfelt poetry. Her writing depicts steps along the way as her soul opens to the Ultimate reward.
As her Spirit opens, we share how she accepts walk-ins and finds true meanings to life, something that cannot happen unless the person has prepared spiritually.
This is a special little book full of personal experience and reward that reminds us to deepen our own purpose and seek the reward from our journey. Mary Deal
Bearing All in Umbria – The Diary of Toby Bear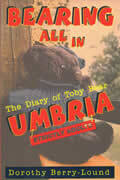 Toby Bear goes to Italy with Mummy and Daddy. He sends letters to Nanny telling her all about his holiday.
It sounds like a children's story, but it's definitely not – it's strictly for adults!
Toby Bear is a streetwise bear with a rich imagination. In his e-mails to Nanny he regales her with the very grown-up activities of Mummy and Daddy. They are innocently sampling the delights of Italy – with a glass or two of wine to add to their enjoyment – but to Toby Bear they are leading a life of debauchery.
Toby's exaggerated version of their exploits, mingled with revelations of his own secret life and nocturnal adventures, adds a touch of spice to this quirky and very funny account of a sojourn in Italy.
Paintings
I have made my original paintings available to purchase as fine art prints. Find out more at my art website. This video gives you an overview of my work.