Art and Story Telling
I am a fine art photographer and visual storyteller. I specialise in photo-manipulation which is also known as photo-painting or photo art. I use my own photographs and then work on them digitally to develop the story of the images further using the application of colour and textures.
Fine Art Photography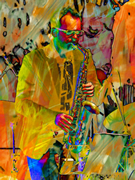 My art covers a range of subjects, reflecting my Brighton background, my life in Italy, the countryside and my love for animals. But I work from the heart so all pieces are developed with a little piece of me and contribute to the mood of the room in which they sit.
I have won several awards including Best Photopainter 2015 by CQ Magazine. I was an Artsy Shark featured artist in August 2016.
My designs are available in a range of print sizes and formats, and a selection are available as scarves, clothing, birthday cards and more.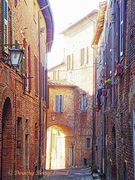 I also have a dedicated website for small matted prints of my images of Umbria and Tuscany.
Links to where you can view my online gallery and other outlets for my artwork can be found on my art website.
The following video gives you an introduction to some of my work.
Visual Story Telling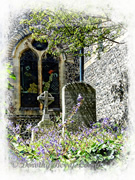 The pieces I create tend to have a story, a message I am trying to get across or imagery to make you stop and think. Promoting the use of art for healing is aan important focus for one aspect of my artwork and I have written guest blogs about the effect of colour and how it can be used in art.
I have also developed a range of healing art and colour harmony images. I am a member of The Healing Power of Art and Artists gallery.
The following video gives you an introduction to some of my healing art work.
Follow Me
You can follow me on Facebook, Twitter, Google+ and Instagram and I have an art blog that I post to every Monday and Friday.
If you would like to commission a piece for a particular room or setting please contact me.