Reiki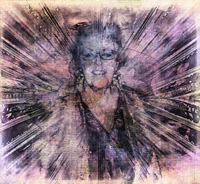 What is Reiki?
Reiki is a Japanese healing art that was developed by Dr Usui in Japan in the early 20th century. It is pronounced ray-key and it is a type of spiritual practice used as a complementary therapy to treat physical, mental and emotional illnesses. I have been a Reiki Master/Teacher since 1997.
What does a Reiki treatment consist of?
Before having a Reiki treatment with me in my treatment room at my house in Italy, we will have a chat about your general health and medical history. Treatments are given with you fully clothed although I will ask you to remove items of jewellery, belts, shoes and spectacles. I use a treatment bench for my sessions and you will start by laying on your back and I will ensure you are comfortable and warm. I will ask you to close your eyes and then the treatment consists of me laying my hands on various parts of your body, starting at your head and moving down towards your feet. During the treatment I will ask you to turn over and do the same to your back. What I will be doing is balancing the energy in your body. If you are unable to lay down we can adopt the same procedure with you in a comfortable chair. Soft music will be playing in the background and most people doze or fall asleep as it is very relaxing. A session lasts for about an hour. After the treatment I will encourage you to drink lots of water and go home for a rest in order to get the full benefit from the treatment.
You can have a 'one off' treatment, a course of three over a short period of time (which is recommended for some conditions including sports injuries for example) or a regular treatment for an ongoing condition. Reiki works well in supporting hospital treatments which require regular hospital visits such as chemotherapy. It is also excellent for relieving stress.
Distance Reiki treatments
Reiki does not have to be delivered in person, it is possible to give treatments at a distance if you are unable to come in for a full session. This can be particularly helpful if you are unable to travel due to illness, are abroad or are in hospital.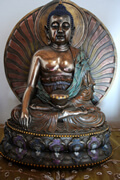 Level One, Two and Masters training courses
I am taking on students but rather than having set course dates I encourage groups of friends to get together and agree dates when they would like to have the training take place. For Master trainees I prefer to work one-to-one and individual course objectives and training plans are produced based upon the trainee's existing experience and applicants are encouraged to write to me outlining why they would like to become a Master and their experience to-date before I agree to work with them.
How do I find out more?
If you would like to have a chat about any aspect of Reiki, including the cost of treatments, please contact me.
Below are a few testimonials from people I have worked with:
Testimonials
"I have known Dorothy for about 10 years and I have had Reiki treatments from her for different reasons over the years, both in her treatment room (which is warm, comfortable and relaxing) as well as from a distance (which is a somewhat surreal experience but left me feeling calm and tranquil). Most recently I have been through chemotherapy and on the days of my treatment, she has given me a Reiki treatment from a distance (whether she was in Italy or the UK) and I do believe it helped me cope throughout this difficult time.
"In one instance, she did a Reiki treatment from a distance when I was being monitored for blood pressure over a 24 hour period and called me to ask whether I was de-hydrating as she had sensed it – and I was!! How amazing was that?
"I don't hesitate recommending anyone to have Reiki treatments with Dorothy as she makes it such an enlightening experience." Jenny
"Reiki is a wonderful experience and the peaceful setting of Dorothy's treatment room is the perfect place to try it." Sandy
"I had started to become interested in Reiki and was intending to find out about training. Whilst spending time with Dorothy, she suggested that I try a treatment so that I had an idea about how it felt.
"Dorothy approached the treatment in a very professional way. She described exactly how she would carry out the treatment and ensured that I was warm and comfortable before the treatment began. The treatment room was very peaceful and relaxed and the music was lovely, adding to the sense of peace and calm.
"I experienced a range of sensations during the course of the treatment and there was time afterwards to discuss both my experience and also what Dorothy had noticed when she was treating me. Dorothy also explained some of the things I might feel during the rest of the day. Dorothy did not talk about the type of sensations I might feel before the treatment apart from in very general terms and therefore I did not feel that anything had been suggested to me but that everything I felt was my experience.
"It was a lovely treatment and I have since gone on to Reiki 1 which is helping me to become more focused and mindful through meditation." Sharyn